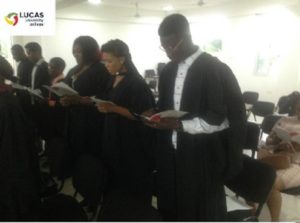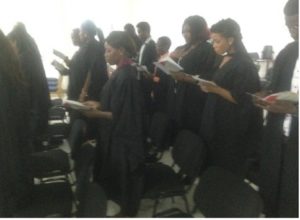 LUCAS University College, a private University college of Applied Sciences, has held its first matriculation ceremony for newly admitted students at its Dworwulu campus.
Mr. Toufic Joseph Tasso, the President of the University College, in a speech read on his behalf, said the ambitions of the University College was to be the Pan-African link between individuals and the working world, while adhering to its academic standards.
He said the University's trainees would be recognised by their ability to contribute to personal and national development, through the professional skills and entrepreneurial competencies they would exhibit, rather than their knowledge solely.
He said since the launch of the University in Accra in 2016, it has successfully established campuses in Togo and Niger.
He expressed optimism that the University College would develop into a leading higher education institution in Africa with support from the Ghana Institute of Management and Public Administration (GIMPA), and its international university partners.
Professor Philip Ebow Bondzi-Simpson, the Rector of GIMPA, who was at the ceremony, said all the students are to fulfill the necessary requirements before being matriculated fully and recognised as students in the University.
He urged the Matriculants to focus on acquiring skills from the University College, instead of just acquiring degree.
Mr. Sidibe Lancine, a representative of the students, in a remark, expressed happiness that they had been admitted into the University and believed it would provide a fulcrum for intellectual, spiritual, moral, ethical and social development of future leaders.
He urged his colleagues to live up to the Matriculation Oath and endeavour to uphold the rules and regulations governing the University.
Mr. John Yaw Amankrah, the Vice President of the University, in charge of Administration, admonished the newly admitted students to maintain, protect and defend the good name of the University College.
"During your stay here, you would be equipped with knowledge and skills, as part of the journey, aspire for success and work hard to complete your programme within the schedule period to be crowned with your graduation to signify the end of your journey here.
"Whatever degree you are going to get at the end of your journey here will not have any meaning to you unless you have ideas and put them into practice," he said.